Chinese Herbals for Your IBS Relief
(Irritable Bowel Syndrome)
IBS is a functional bowel disorder of the gastrointestinal (GI) tract
characterized by recurrent abdominal pain and discomfort
accompanied by alterations in bowel function, diarrhea,
constipation or a combination of both,
typically over months or years.
A diagnosis of IBS has been reported by 10 to 20% of
adults in the United States, and symptoms of IBS are responsible
for over 3 million yearly visits to physicians. Research suggests
that IBS is one of the most common functional GI disorders.
IBS exhibits a predominance in women, with females
representing over 70% of IBS sufferers.
IBS affects almost 54 million Americans and interfere with our daily lives.

A Natural Aid for your IBS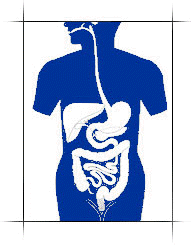 BowelSoothe Formula

IBS help for abdominal pain, cramps, bloating, distention,
diarrhea, constipation, alternating diarrhea and constipation,
nausea, bowel urgency, water retention and gas.

BowelSoothe is a 100% natural herbal supplement and it has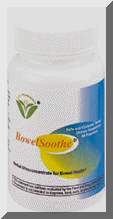 no known side effects.
~ Helps to keep bowel motility normal.
~ Maintains healthy bacteria in the intestines.
~ Helps to maintain a healthy immune system.
~ Keeps the intestinal cells nourished, healthy and functional.
~ Helps to maintain healthy bowel regularity.
~ Helps to maintain a healthy digestion.
~ Helps to control occasional abdominal bloating, gas and water retention. 100% laxative-free.

Ingredients
BowelSoothe contains several Chinese herbs. Each 4 capsules
contains 1,000 mg of a proprietary dried aqueous concentrate of:

~ White Peony root
~ Atractylodes rhizome
~ Cardamon seed
~ Paederia scandens stem
~ Sonchus brachyotus entire plant
~ Chinese (DGL)licorice root.
Other ingredients are gelatin, cellulose, stearic acid, magnesium
stearate, and silicon dioxide.

Contains 60 capsules.
Do not use if pregnant.
BowelSoothe is a pharmaceutical grade version of a Chinese remedy traditionally used to
maintain healthy bowel function. Modern scientific methods were employed to determine
which traditional preparations offered the best outcome. The result is this product which
has been used for 15 years in over 1,000 leading Asian hospitals.

Suggested Use
A full course of therapy is 15 days and requires 3 bottles. (4 capsules taken
3 times daily for 15 days) After this 15 days course of therapy,
continue on a maintenance schedule of 4 capsules daily or
every other day.

Order Now for a Natural, Safe and Quick Relief!
Toll Free 800-900-7724

Not Available in Stores at the Present


BowelSoothe Formula - 60 Capsules
$25.95 (Price Includes U.S. Shipping & Handling)


3 Bottles / 180 Capsules - Complete15 Days Therapy
$71.95 (Price Includes U.S. Shipping & Handling) - You Save $5.90

1 Bottle / 60 Capsules

$33.95 / Price Includes Air Shipping & Handling to Any Country.

3 Bottles / 180 Capsules - Complete15 Days Therapy

$83.95 / Price Includes Air Shipping & Handling to Any Country
This NaturalyPure web page is intended for general information and education only and not intended
   to diagnose, cure nor treat any disease. It is not a guide for self prescription. The author or the server
   management accept no responsibilities for the use or misuse of the  information this site contains.
 The Food and Drug Administration have not evaluated these statements.