Now Joined by Cordyceps Sinensis!
Ganoderma Lucidum
Shiitake
Maitake
Cordyceps Sinensis
The Imperial Blend
They Will Fight
to Boost and Defend Your Immune System
Four Mushroom Complex,
The Super Immune System Boosters and Defenders
Now All 4 in One Convenient Capsule!

Valued for hundreds of years by Asian herbalists for their ability
to reinforce the immune system, Ganoderma, Shiitake and Maitake
and Cordyceps Sinensis mushrooms contain a number of nutraceutical
compounds with immune-boosting potency.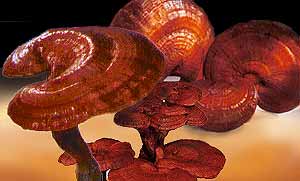 Ganoderma Lucidum Shitake Maitake Cordyceps Sinensis
Used in China for over Several anticancer Recent studies indicate Cordyceps is a powerful
4000 years, is a powerful substances have been that Maitake is the most tonic In ancient China,
and effective supplement found in shiitake potent immune stimulant Cordyceps was highly prized as
for those struggling with mushrooms, including of all mushrooms. The one of the most effective medicines
debilitating chronic lentinan, which has been compounds contained due to its anti-aging and cure-all
illnesses such as cancer, studied in Japan as a have the capacity to properties. It can restore normal
AIDS, hepatitis. Helps treatment for stomach stimulate immune function function of the body, stimulate
reduce blood pressure, and colorectal cancer. and to inhibit tumor growth. immune response, increase energy,
has blood sugar lowering vitality, and longevity.
effect. Known or potential Furthermore, preclinical
therapeutic uses: AIDS/ studies suggest Maitake Recent research has shown that it
A general immune system HIV support, cancer, Mushrooms may have the can strengthen the cardiovascular
booster with ability to fatigue, hepatitis, high ability to stimulate the system, improving sexual energy,
reduced side effects due cholesterol, hypertension, immune system to the and desire, alleviating the
to chemotherapy or symptoms of several respiratory
radiation immune support, point of inducing apoptosis illnesses including chronic bronchitis
intestinal parasites/worms, (cell death) in cancer cells. and asthma. Well known for anti-
longevity, respiratory tumor properties.
infections.
Four Potent Mushrooms in One Super formula,
500mg per Capsule

Top Quality Ingredients, Absolutely No Filler Added!
Order Yours Online Now or Call Us Toll Free 1800-900-7724

The Imperial Blend - 180 Capsules - 500mg per Capsule
$34.95 + $3,00 for Shipping & Handling

Special 2 Bottle Offer - $67.90 - 360 Capsules - You Save $5.00
$44.95 / Price Includes Shipping & Handling to Any Country

Special 2 Bottle Offer - $82.90 - You Save $7.00

Information on this site is provided for informational purposes and is not meant to substitute for the advice

provided by your own physician or other medical professional. You should not use the information contained herein

for diagnosing or treating a health problem or disease, or prescribing any medication. You should read carefully

all product packaging. If you have or suspect that you have a medical problem, promptly contact your health

care provider. Information and statements regarding dietary supplements have not been evaluated by the

Food and Drug Administration and are not intended to diagnose, treat, cure, or prevent any disease.

Information here-in provided by the manufacturer.