Eye Puffiness ?
Crow Foot Wrinkles ?
Under Eye Wrinkles ?
with
Extreme Soothing Eye Care Cream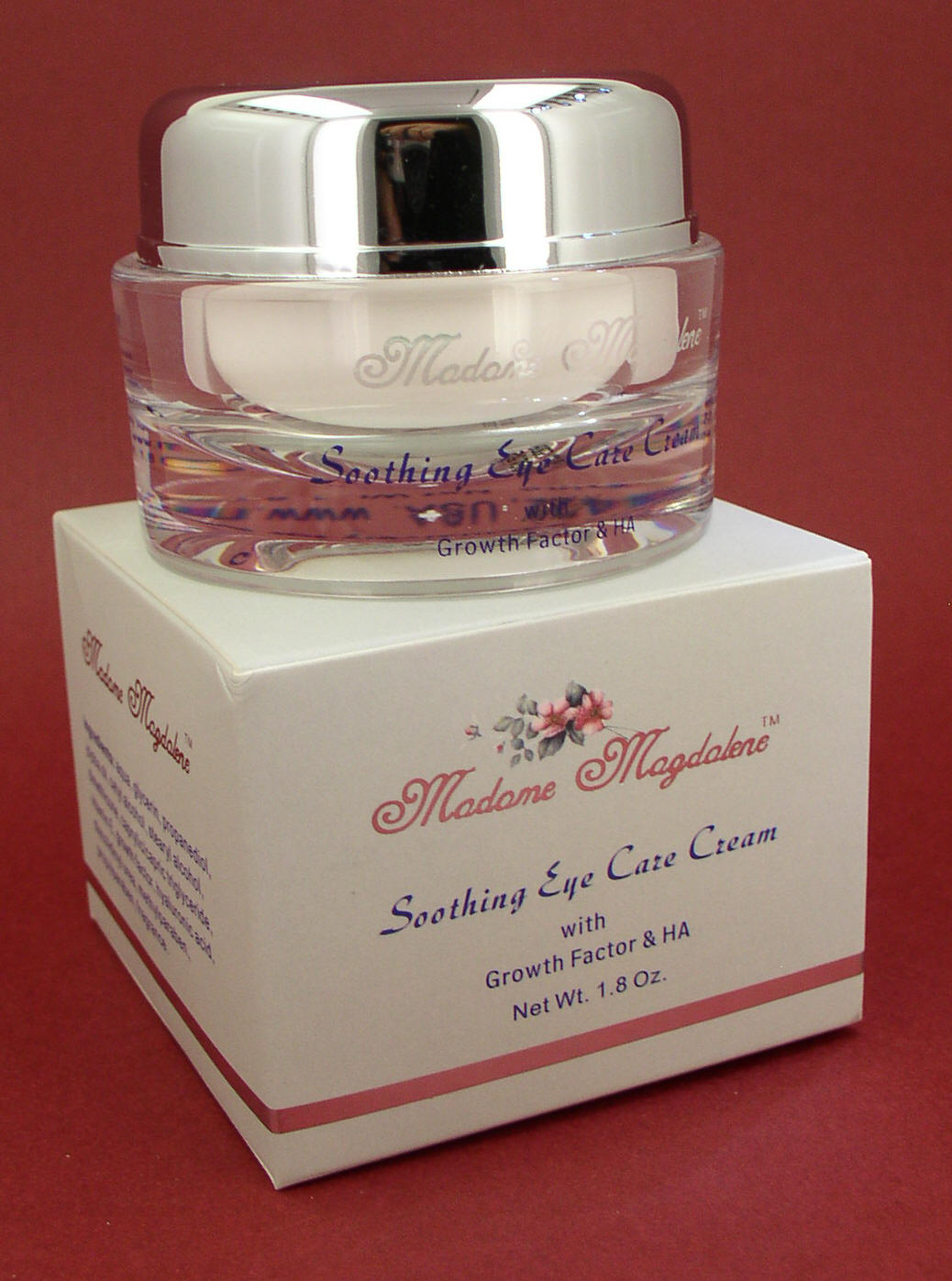 Exclusive Formula by
Madame Magdalene
Soothing Eye Care Cream is a luxurious, rich intensive care cream, formulated
by Madame Magdalene to treat the most sensitive and delicate skin area around
the eyes to minimizes the appearance of fine lines and smoothes them with intensive
moisturizing action, reducing puffiness, bags and dark circles under the eye.
Formulated with Growth Factor,
Pure Hyaluronic Acid (HA), Jojoba Oil & Vitamin E
Madame Magdalene Soothing Eye Care Cream incorporates newly discovered
natural technology being the culmination of years of research. A silky light cream that
melts instantly into your skin, infusing a burst of freshness. Your skin is intensely hydrated
and radiates with a healthy glow that dramatically lessens the appearance of dark
under eye circles, puffiness and smoothing away fine lines and wrinkles.
Soothing Eye Care Cream extends phenomenal benefits to the delicate eye area by
creating conditions in the skin that encourage rejuvenation beyond any technology
previously available. Within a short period of time, the eye skin will begin to appear
smoother. With continued use, this area will appear measurably firmer, more resilient
and defined.
Scent: Subtle Sweet Pea.
Directions: Apply sparingly morning and evening around eye area, massaging in lightly.
You Can Order Yours Online Now!
or Call Us Toll Free 1800-900-7724 ~ Hablamos Espanol

Extreme Soothing Eye Care Cream

$29.95 / 1.8 Oz. Jar - Price Includes US Shipping & Handling

$39.95 / 1.8 Oz. Jar - Price Includes Shipping & Handling to Any Country
This NaturalyPure web page is intended for general information and education only and not intended
   to diagnose, cure nor treat any disease. It is not a guide for self prescription. The author or the server
   management accept no responsibilities for the use or misuse of the  information this site contains.
 The Food and Drug Administration have not evaluated these statements.